Fieldwork in Ireland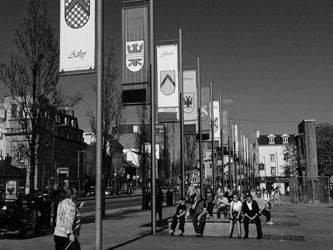 Galway is the most heavily touristed city in the West of Ireland and is explicitly marketed as the urban heartland of Irish language and traditional music, despite the fact that almost no music marketed to tourists in the centre of Galway City is performed in Irish.
For my field research, I am conducting participant observation and recording interviews with those musicians in Galway who do choose to perform in Irish, in a variety of styles ranging from sean-nós ("old style" singing) to pop band covers, in order to explore to what extent these musicians conceive of performing Irish-language music as part of a project of engaging with Irish cultural heritage. I am particularly interested in the points of tension that emerge between the picture of Irish traditional culture and music that is marketed to city tourists and the narratives of place and personal memory that have featured in many of my interviews with Irish-language informants.
The three photographs were taken as I walked the most heavily touristed street in Galway, each highlighting what I felt was a moment of tension in how Irish heritage, traditional music, and language are packaged and marketed for tourists in the Galway cityscape.
From top right:
As tourists make their way from the train station, they wander across Eyre Square, a heavily commercialized public park lined with retail centres, cell-phone shops, and corner stores. Roller-bags in hand, they pass under dozens of flagpoles, several stories tall, each sporting a brightly colored banner depicting some of the most common Irish names and family crests as they make their way to Shop Street (Sráid Siopa), where they are quickly bombarded by street performers and Irish pubs advertising nightly live music sessions.
This performer on Shop Street captured the attention of a large group of tourists carrying their luggage on their way from the train station. He spent several hours, on a sunny weekend afternoon, performing pop covers outside a Chinese restaurant and solicitors' office across the street from a pub called Tig Cóilí, which self-advertises as the "Home of Traditional Music".
A kebab shop offers tourists Céad Míle Fáilte ("A Hundred Thousand Welcomes"), a greeting which would be intelligible to few overseas visitors. Two doors down, a pub promises them "Ballads and Traditional Music Nightly" over a marquee listing upcoming live performances from visiting English-language pop and rock bands.