Fieldwork in Northern Colombia
The Reality behind Ecology: Kogi Ontological Knowledge.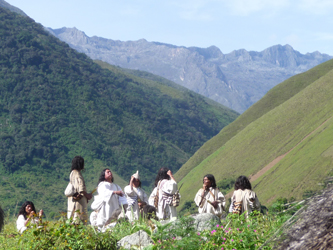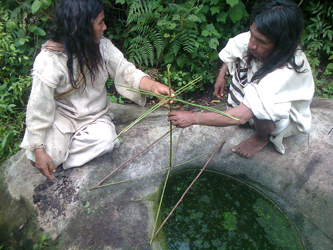 The Sierra Nevada de Santa Marta, a mountain-massif by the Caribbean Sea in northern Colombia, has an exceptional geographic and climatic variation with ecological habitats ranging from tropical beaches and rainforests to permanently snow-capped peaks, resulting very high biodiversity. A recent international study by leading experts determined the Sierra Nevada to be the most irreplaceable protected area in the world for threatened species, and adding the mountain's significant historical, archaeological, and cultural value, its status may soon change from aUNESCO Biosphere Reserve to a World Heritage Site.
For nearly two years, I interacted with one of the four indigenous peoples living there, the Kogi or Kaggaba. The adjacent lowlands are where Spanish colonizers first entered South America, initiating an onslaught of external influences that recently turned into environmentally harmful developments. These include mining, deforestation, illegal crops, deviating rivers, contamination, commercial infrastructure, and the significant destruction of several of the Kogi's "sacred-sites".
The Kogi "cosmic care-takers" or Mamas are acutely aware of the dynamics and consequences of these negative events and continually work to stabilize the environment through long-standing traditional practices based on a radically different way of knowing and relating to the world. They affirm that this is a fundamental disruption of cosmic balance and order that transcends materialistic, Western ecological assumptions, interweaving human behaviour with complex natural, spiritual and ontological forces in detailed and structured ways. My research follows the Kogi's claim that they have the responsibility and knowledge to maintain nature's stability by analyzing their ontological discourse in order to elucidate its meaning and relevance for current global ecological challenges. According to Kogi leaders, these not only affect their territory but the whole world as an interconnected reality.
From top right:
Kogi Mamas holding discussions and divinations about the state of the Sierra on an important sacred site.
Ceremonial procession in a Kogi village to renew the life-giving forces of nature.
Mama teachers explaining the structure of the world with a model. The pond contains a spiritual force related to knowledge.