Fieldwork in China
I have undertaken 5.5 weeks of on-site field study in Chengdu as a means of gaining insights relevant to my planned MPhil dissertation. The people I discussed my interests with include city officials, local people, and educated migrants recruited to settle in Chengdu under the 'talent system'. As one of China's 'second-tier' cities, Chengdu has been attempting to attract highly educated migrants with bachelor degrees or above in the last two years. This initiative is in stark contrast to those employed by Beijing and Shanghai which recently tightened residency requirements. By awarding the much-desired rights of residence such as housing allowance and access to superior schools to people called 'talented migrants' under the hukou system, Chengdu hopes to build an 'International Community' full of 'talented' people who will help push its economy towards higher-end manufacturing and services.
Building the Park City of the 'New Era'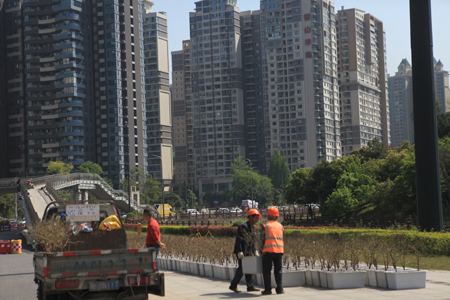 Two workers carrying plants to decorate the street of the newly constructed district in Chengdu China , dedicated for 'talented people' of the new era.
Scan the Free 24/7 Smart Bookstore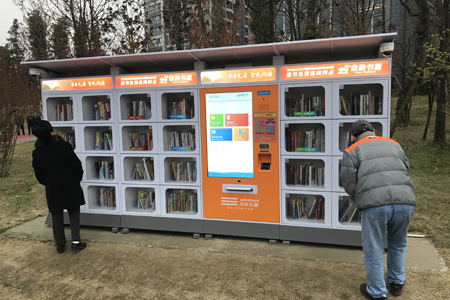 People are examining the new 'smart library' located in one of the parks in Chengdu, China where they can scan the QR code and borrow books for free and buy them later.
 'The Park city of the 'New Era'

A large sign before entering the newly constructed district in Chengdu resonating Xi Jinping's thought on socialism with Chinese characteristics for a 'New Era'. The new district is intended to build for 'talented people'.