Fieldwork in Germany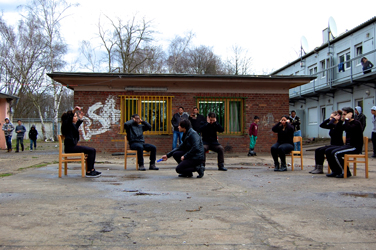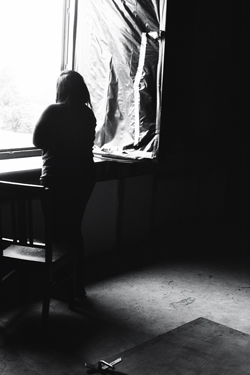 My fieldwork documents and analyses German public theatres as ethico-aesthetic traditions, that is, as prisms for practices and discourses on art as self-cultivation. I focused on rehearsals and other creative processes that artists described as relevant to the self, the body, and one's political subjectivity. This complex relation often came to the fore in a refugee theatre project I accompanied for several months, which problematised the psychological effects on refugees of living in asylum camps without permanent right of stay.
Isolation, Triptych, Oberhausen, Germany (2014)
From top right:
Two participants taking a break by those windows that had not yet been darkened. The misspelt phrase 'bleit' (this stays) written on the wall creates a macabre still-life.
Refugee theatre, Oberhausen, Germany: Scene performed in the asylum camp where many project participants lived. Most actors experienced trauma, insomnia, and anxieties.
One actress resting from rehearsals in the abandoned postindustrial asylum camp, which the actors had turned into a temporary theatre venue.