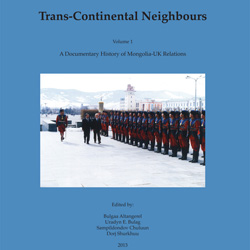 Conceived within the framework of HEIF 5 funding, the symposium provided a forum for closely examining the cultural, social, political, and above all geopolitical and geoeconomic factors that may propel or hamper Mongolia's transformation from a pastoral economy to a mineral resource-based industrial society. Leading experts from Mongolia proper, its two territorial neighbours – China and Russia, and its 'third neighbours' – Japan, UK and continental Europe, spent two days scrutinising a variety of topics ranging from the mineral trade to transnational traffic, from practices of financing mineral industry to infrastructural development, from natural resource depletion to human resource drain. Combining insights from front-line businessmen and politicians, and in-depth academic analysis, this symposium navigated competing international interests in exploiting Mongolia's natural resources, and provided different perspectives on Mongolia's strategic culture in business and politics.
The symposium was presented a book entitled Trans-Continental Neighbours: A Documentary History of UK-Mongolia Relations, edited by Cambridge University's Dr Uradyn Bulag together with Professor Altangerel the former Mongolian Ambassador to the UK, and Dr Chuluun and Dr Shurkhuu from the Mongolian Academy of Sciences. The proceedings of the symposium will be published by MIASU soon.
A new consensus has emerged that Mongolia's natural resource and infrastructure development require urgent and in-depth research. MIASU is eager to institutionalise this consensus by providing academic platform to study a Mongolia in the process of rapid transformation, and a public forum for dialogues between academics and Mongolian and international business and political leaders and local communities.
---