Fieldwork in Thailand and Malaysia: "Hidden Honeymoons in Hat Yai"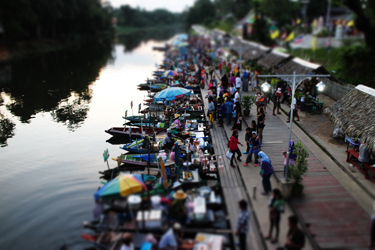 My fieldwork was conducted in Songkhla, Southern Thailand and Kota Bharu in the northern Malaysian state of Kelantan over a period of fourteen months in 2014-2015, during which I studied Malay-Muslim monogamous and polygamous cross-border marriages contracted in Southern Thailand. Every year, thousands of Malay couples elope to the predominantly-Muslim region of Southern Thailand to get married for various reasons, most often the evasion of bureaucracy or concealment of the union from the couple's family and friends or the husband's first wife (if the marriage were polygamous). As such, Southern Thailand persists in the imagination of many Malaysians as their own Las Vegas a little closer to home — an elopement paradise with many tempting tourist attractions to offer, such as Hat Yai's Floating Market featured here. Most cross-border marriages remain a secret for varying lengths of time, so this "honeymoon" period is practically the only time the couple may enjoy each other's company in public as husband and wife without exposing their newlywed status. However, this enjoyment is often offset by the trepidation of the precarious future that awaits them upon their return to Malaysia. These hidden honeymoons in Hat Yai are therefore highly prized by Malay-Muslim cross-border couples, for whom time in each other's companionship are often few and far between. 
From top right:
"Match Made in Thailand" - This photo is of a "pelamin" at the Central Mosque of Songkhla where Malay-Muslim couples contract their marriage. These couples take their first photograph as newlyweds on this pelamin, immediately after they have left the nikah room after having been officially pronounced as man and wife.
"Whatever Floats Your Boat" - Hat Yai's Floating Market, a top destination for sampling local gastronomic delights in Southern Thailand. A highly popular destination for Malaysian tourists, who come here by the busload all year round.
"Making A Living" - The sellers at Hat Yai's Floating Market are largely ethnically Malay and Muslim. Many depend on Malaysian tourists from across the border for their livelihood, and cross-border marriage couples from Malaysia also contribute to the local tourism industry in this region.