2nd Prize
Mobilised Mosque
During my fieldwork on Java, Indonesia, I spent time with young leftist Islamic activists and the communities they work with to see where and how traditionalist Islam and politics intersect. One of the activists' major concerns is agrarian conflict between private or state actors and peasants, fisherfolk, or labourers.
Mosques play a crucial role in conflicted political settings. On the one hand, of course they are the key locale for worship and spiritual nourishment. On the other hand, however they can also become places of community education and resistance. I have chosen to present three pictures of one single mosque and its immediate surroundings in central Java to visualise these different functions. In this particular setting, villagers are affected by an immediate threat of eviction due to the development of about 2000 ha of land for a new international airport and surrounding infrastructure. In one village, all houses and fields have been destroyed by the authorities, which leaves only a small green mosque behind. Supported by student activists, the villagers maintained their resistance while looking for new sources of income. With their houses in rubble, they prayed, debated, and slept in this mosque.
Not preaching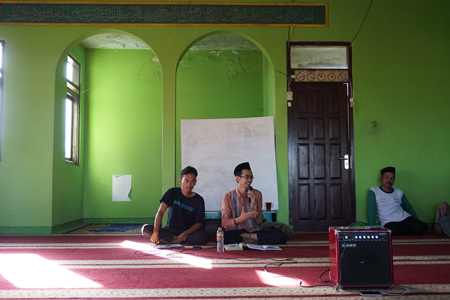 A young kyai (religious teacher) teaches peasants who are affected by forced resettlement about capitalism and its critique.
Waste Land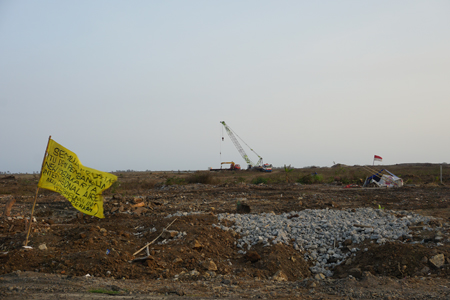 In the area around the mosque, all houses have been torn down, trees felled, fields and gardens destroyed. Across the street from the mosque, the construction site is visible. In front of it, there is a provisionary tent with an Indonesian flag flying. Residents have put up a banner asking: "All this distruction for the building of the New […] International Airport. Will this construction bring blessing?"
Mujahada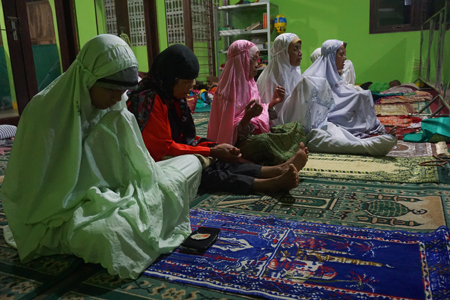 Every other day, the remaining villagers engage in a special prayer for divine support so that they can remain on their ancestors' land. But they also use it to keep their spirits up. Children already sleep in the background.