Fieldwork in Sarawak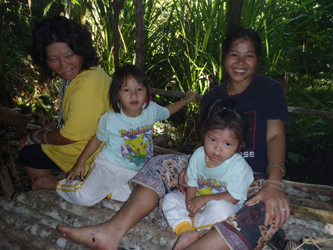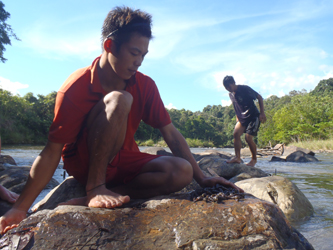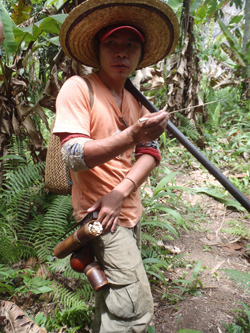 I did my fieldwork in rural Sarawak, in a village on the border between Malaysia and Indonesia. There is no road access to my main fieldsite. To get there, and you have to either walk, or else take one of the small fishing boats from the nearest road or airstrip. The people who live here are a former hunter-gatherer group who practice a mixed subsistence economy. During my time there, I accompanied the Penan inhabitants of my main village as they moved between their village, other villages, the jungle, and the towns, in order to experience their day to day life.
From top right:
Connie and her family inside their lamin tana. Village dwelling Penan rarely make lamin tana any more, but this one was made for the benefit of a documentary crew who arrived in the village in order to film the homecoming of one of the professional gentlemen who was born in the village, but later got a job in one of the towns. In this picture, the family show the documentary crew how the lamin tana would have been used traditionally. Connie (far left) plays a pagang, a traditional musical instrument, whilst her daughter and granddaughters sit beside her.
The young men of the village searching for edible snails. Foraging is still a big part of village life, and young men and women of both genders are engaged in it. It is only when men are old enough to clear and work their first farm (as opposed to working on the family farm) that they generally stop foraging.
Ajor and his blowpipe. Ajor shows me a poisoned dart, tipped using a mixture made from the sap of the tajam tree, amongst other things. The people from the village generally prefer to use shotguns when they hunt, but the Malaysian government have severely restricted their use and made it difficult to obtain a shotgun license. For this reason, many Penan have started to use blowpipes once again.