Fieldwork in Kalmykia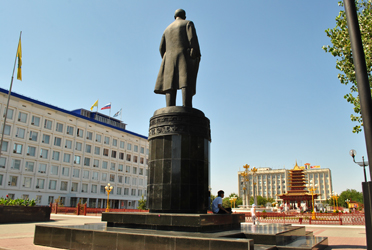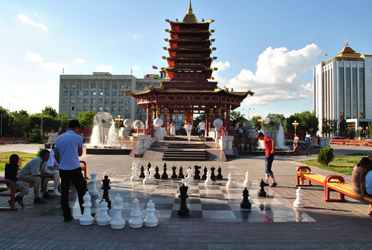 My fieldwork took place in Kalmykia, south-west Russia, in 2009-2010, to investigate the so-called "ideology of reason" which was propounded by the then President of Kalmykia, Kirsan Ilyumzhinov. It was officially the state ideology of Kalmykia until the resignation of Ilyumzhinov in October 2010. In order to study the state ideology I also looked at many other factors that affected it, such as post-Soviet Kalmyk historiography, religious revival, local ideas about Kalmyk geography, memories of socialism, ideas about order/disorder, etc. Throughout my fieldwork I conducted 576 recorded interviews, not to mention those off-record. My informants were people, both male and female, from a variety of backgrounds and professions: ministers, lamas, scholars, bureaucrats, businessmen, political dissidents, laborers, kindergarten teachers, artists, unemployed, and pensioners.
From top right:
"Kalmykia – place where Lenin is reconciled with Buddhism". Central square, Elista, summer 2010.
"Buddhist Kalmykia – the chess capital of the world" shows Central Square, Elista. The president of Kalmykia, Kirsan Ilyumzhinov, simultaneously the head of the FIDE (World Chess Organisation) since 1995, made chess a compulsory lesson in all state schools in Kalmykia.
"The biggest monastery in Europe – the Golden Monastery of the Buddha Shakyamuni", Elista. Tsagan Aav (White Father), a local pre-Buddhist deity, welcomes visitors to a 21st century monastery.