Fieldwork in Kiev, Ukraine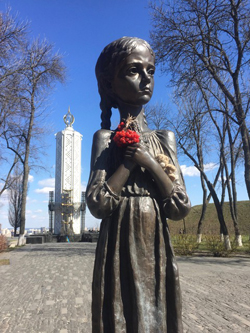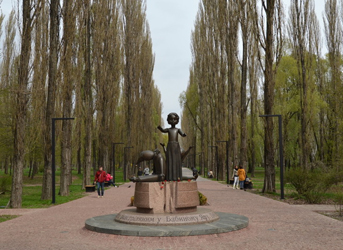 Over Easter Break, I spent three weeks in Kiev researching World War II and Ukrainian nationalism. Under early Soviet governance, Ukraine suffered through horrific famines and purges, and the battles of WWII would further devastate and divide the nation. Many Ukrainians fought for the Red Army; others allied with the Nazis, and some groups fought against the USSR and Germany alike. Ukraine has struggled with remembering that past for decades, but since conflict with Russia began in 2014, discourse on WWII has become increasingly heated. During my fieldwork, I studied how Ukrainians experience WWII in their everyday lives, including monuments and museums but also in architecture, parks, and even roads, woven into the fabric of the city. Conversely, I examined how the current political situation affects the way Ukrainians interpret WWII history and how they express their understandings.
From top right:
Babi Yar
On 29-30 September, 1941, one of WWII's worst massacres occurred when German forces executed 33,771 Jews in the Babi Yar ravine. For decades, remembrance of this massacre was repressed by the Soviets. It was recently refurbished for the 75th anniversary of the massacre; today, it is a popular place for friends to stroll or children to play.
Holodomor
Red berries and a small bear are among the tributes to this gaunt child, a haunting memorial to the millions of victims of the famine of 1932-1933, known as the Holodomor.
Tank
In front of Kiev's WWII Museum stands a T-64BV Tank captured by Ukrainian forces from separatists in Donestk. A sign in front of the tank details its Russian origins and declares, "This item is a material evidence of crimes committed by pro-Russian militant groups supported by the Armed Forces of Russian Federation at the territory of Ukraine." Behind it looms the colossal Mother Motherland statue, the Soviet State Emblem still emblazoned on her shield.