I conducted my fieldwork with a community of American Nyingma Tibetan Buddhists in Berkeley, California. This community, founded in the 1970s by a Tulku from Eastern Tibet, is deeply invested in the creation and distribution of sacred Tibetan Buddhist objects. They print hundreds of thousands of sacred texts a year, which — coupled with other sacred objects such as flags, statues, and images — are distributed annually to the Tibetan monastic community in India.
Their work has lifted the production of sacred Tibetan objects out of the networks that have historically supported it, and laid it in the hands of American volunteers, largely neophytes in the Tibetan Buddhist tradition. Through their work they must uncover new facets to the voice of sacred texts, allowing them to speak in new ways, appealing in turn to volunteers, sponsors, donors, and recipients of their sacred gifts.
Creating and shaping the sacred offer pathways for this community to feel their way into the spatial and temporal landscape.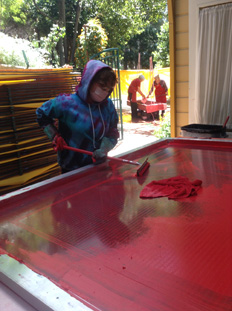 Sacred texts and objects are partners in the way this community shapes a space for themselves in the Berkeley landscape, and how they imagine their position in the past, present, and future of Tibetan Buddhism.
Image one: A volunteer cleans red ink from a silk­screen used to print sacred flags. In the background a rack holds the printed yellow cloth to dry and two more volunteers clean their stained tools.
Image two: Finished sacred flags — which contain the entire printed Prajnaparamita — are bundled into plastic bags in Bodh
Gaya, India where the sacred texts are distributed. They await the moment when they will be strung up on poles and carried in a circumambulation of the bodhi tree.
Image three: Several monks have received their yearly allocation of sacred texts. They pack them into a tuk tuk to begin the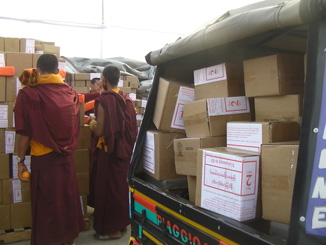 journey back to their monastery's library.