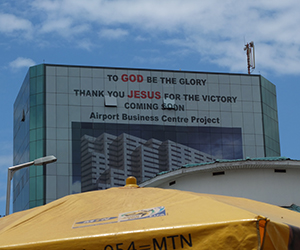 In Accra and Lagos, two buzzing West African business hubs, it is possible to spot branches of banks, insurance companies and credit unions in compounds of indigenous Charismatic Pentecostal Christian churches. It is also possible to work for a locally owned enterprise that has an official 'prayer policy', a 'resident pastor' who offers management advice, counselling and healing prayers, as well as regular 'fasting rotas' that employees participate in to spiritually contribute to the company's success. Rumours circulate of connections between pastors and business executives who may share private offices, fellowship at the same church, exchange spiritual and management advice, and participate in each other's family lives. Oftentimes, these rumours transform into critical moral debates in the public sphere – as in, during Ghana's recent 2018-2019 financial crisis that exposed close connections between a collapsed Ghanaian bank (subsequently absorbed by a state bank) and a Charismatic church: 'Can a pastor own shares in a bank?', as one journalist asked when the story unfolded.
A key interest of this project is to understand the role of Charismatic Christian churches and leaders in the institutionalisation of private sector in West Africa. It asks how the private sector emerges out of church-enterprise-state networks of exchange and circulation of capital, advice, ritual, and people. In a context where Charismatic Pentecostal churches have grown in terms of popularity, influence, and capital reserves, this research recognises churches as important economic agents that currently invest and grant 'projects' to local entrepreneurs and own 'shares' in private enterprises, while they also operate in a macro-economic environment in which the state remains a crucial intermediary. Secondly, this research engages with the mysterious ways in which religious texts, materials, and ritual practices, such as prayer and fasting, are modelled onto new spheres of social action. Ultimately, this project intends to shed light on the diversity of cultural formations of capital and distinctive trajectories of economic formalisation beyond the state-market nexus, while building on the global history of Christian churches as ambiguous engines of capitalist transformation.
Max Planck Cambridge Centre for Ethics, Economy and Social Change (2018-ongoing). Dr Anna-Riikka Kauppinen.
---
Research Associate, Max Planck Cambridge Centre for Ethics, Economy and Social Change
Post-Doctoral By-Fellow, Churchill College Cambridge