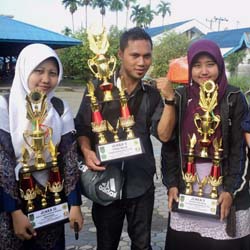 Grant Holder: Professor Susan Bayly (PI); Dr Nicholas Long (Co-I)
Funder: ESRC, Grant RES-000-22-4632
This project will investigate the changing ways in which Indonesian and Vietnamese individuals of divergent backgrounds and experience have understood the idea of 'achievement' over the course of their lives. What conceptualisations of achievement have been historically significant in both Vietnam and Indonesia? What conceptions of 'achievement' are emerging today – in a world where global performance indicators, such as the UNDP's 'Human Development Index', measure the attainment, capacities, and 'global competitiveness' of whole populations and nation-states? In what ways might these ideas be contested, or countered through innovative new deployments of what it might mean to 'achieve'? And what is the significance of these shifts for the lived experience of 'achieving'?
Based in Vietnam's capital city of Hanoi and Indonesia's borderland province of Kepri, the project will focus on the experiences of four particular groups: policy makers, who are devising strategies to increase achievement orientation and levels of attainment within their populations; teachers and pupils at high-profile 'achievement schools' which have been indicated as the birthplace of a more globally competitive generation; export workers, who have historically contributed to each nation's economic growth but are now frequently being reclassified as 'unskilled'; and religious and ritual professionals, who are variously seen as operating in a domain that lies outside parameters of 'achievement' or touted as a valuable 'export commodity' sporting unique forms of human capital such as psychic abilities.
Comparing these groups across Vietnam's capital city, Hanoi, and Indonesia's outlying province of Kepri makes for a particularly interesting contrast. Both are emergent economies – indeed, they are rivals to each other for foreign investment and export markets – but they have sharply contrasting backgrounds where achievement is concerned. Hanoi – projected to be the world's fastest growing city in terms of GDP over the next 15 years – is still strongly influenced by its socialist past, in which achievement was conceptualised as a matter of attainment for collective and national, rather than individual, ends. By contrast, Kepri was the jewel in the crown of postcolonial Indonesia's technocratic pursuit of 'development'. Strategically positioned next to Singapore, it was designed to be a major locus of foreign investment in which residents would and should be highly oriented towards individual achievement. Yet the region has also struggled to throw off an enduring stigma deriving from stereotypes that defined it as a zone of poor quality human resources, bad education, and an 'indolent' Malay culture that was achievement-averse.
The research project thus has five principal objectives:
Firstly, to trace historical shifts in the ways that 'achievement' has been understood and experienced in two key localities in Vietnam and Indonesia: Hanoi and Kepri.
These sites face a similar contemporary condundrum. As CIVETS nations, identified as high-potential 'emerging' economies, it has become a major political priority in both Vietnam and Indonesia to ensure that their populations move rapidly forward as competitive participants in the global knowledge economy. 'Achievement' has thus become a topic of critical political and public interest. These developments represent the latest stage in complex historical trajectories, in which residents of Kepri and Hanoi have engaged with categories of 'achievement' in complex and fast-changing ways. We will gather life histories to see how, when, and why historical understandings of achievement have changed, and how they still influence contemporary thinking about competitiveness and success.
Secondly, to provide a qualitative account of the diverse ways in which residents of Kepri and Hanoi think about and engage with categories of 'achievement' in their everyday lives.
The historical processes indicated in point (i) have left people in Kepri and Hanoi with a great diversity of conceptual resources through which to apprehend the present. Contemporary notions of achievement are fervently advocated, and passionately contested. Our project will identify the range of attitudes to 'achievement' that are held by four groups that stand in distinctive relation to that category. We will also investigate how and why respondents' attitudes might be affected by factors such as gender, age, race, religion, and socio-economic status.
Thirdly, to develop a comparative analysis of how achievement becomes meaningful and/or problematic for different groups within and between Vietnam and Indonesia.
Do the four target groups defined for each country display systematic similarities or differences in the attitudes and experiences they report? Are there similarities or differences in how Indonesians and Vietnamese in similar structural positions engage in debates over 'achievement'? Exploring these issues will allow us to provide an ethnographically nuanced account of how globally circulating parameters of 'achievement' (such as those used to classify Vietnam and Indonesia as CIVETS) are being vernacularised and experienced at the local level.
Fourthly, to explore the theoretical contributions that a historicised and comparative anthropological study of achievement in Indonesia and Vietnam might make to the interdisciplinary study of 'achievement' more broadly.
Some of the most exciting current work on achievement – which comes from psychologists and well as anthropologists – points to the often unexpected long-term consequences of 'achieving' for an individual or group. But this typically presumes a stable definition of achievement. By paying close attention to the ways in which respondents in different contexts navigate and are affected by discursive shifts in what 'achievement' comes to mean, debates over its appropriateness, and its explicit politicisation, our project promises to make a distinctive theoretical contribution to this literature.
Fifthly, to engage interested policy-makers and publics within Indonesia, Vietnam, the UK, and elsewhere.
'Achievement' is an issue of considerable public interest. We plan to stage seminars in both fieldsites, and will speak on the research to a variety of public audiences in the UK. For further details of such events, check back on this website, or subscribe to http://www.sociallifeofachievement.wordpress.com
---
Professor Emerita of Historical Anthropology
Fellow, Tutor and Director of Studies, Christ's College
Office hours: appointment by email