Fieldwork in central Kenya
Beyond the tranquil northern suburbs of Nairobi lies the peri-urban sprawl of southern Kiambu County – a criss-crossing network of towns punctuating the geography of smallholder farms and enormous tea plantations that cascade across the hills in the direction of Mount Kenya. These urbanising areas are predominantly home to members of the Kikuyu ethnic group alongside an increasing influx of outsiders drawn to the town by the promise of cash wages. In an urbanising "Kikuyuland", this research explores the change an "approaching" Nairobi is understood to bring, together with the moral projects that are pursued by householders and their younger generations within this milieu. 
Rising land value, for instance, has stoked debate about the right way to make one's way in life. Those that sell their land for large sums of cash are thought to break the link with their ancestors, often risking the wrath of curses (irumi) laid down by their forebears that their land should never be sold. Meanwhile, moral anxiety coalesces around the state of "the youth" who have apparently been drawn in by the habits of "town life". Alongside those who are vilified for "idling" in towns, others purposefully eschew the temptations of short-term "fun" (raha) afforded by alcohol and cannabis in order to pursue their talent playing football.
Image 1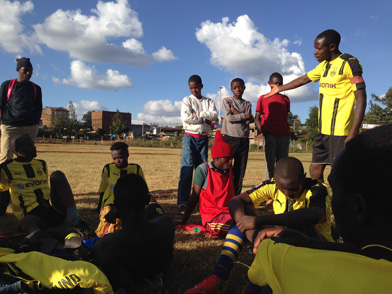 A coalition of friends (mandugu), the Sky Boyz football team reflects an ongoing attempt to cultivate experiences of joy, wonder and achievement against the backdrop of manual labour or outright joblessness. "Job first, then ball", is how it goes. Here player-coach Wanji makes a half-time team-talk to his players. Their kit is notably that of German Bundesliga club Borussia Dortmund.
Image 2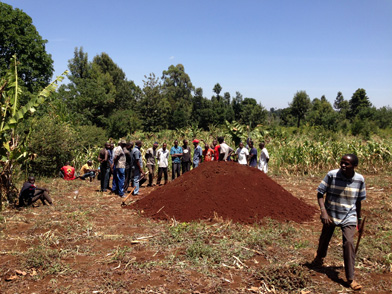 Neighbourhood men gather to dig the grave (kwenja irima) of the recently deceased – a sometimes rare expression of neighbourhood solidarity. Being interred in one's farmland epitomises the autochthonous relationship conservative Kikuyu opinion says one ought to have with the land. "Just so" stories circulate describing those who sell their land as falling into poverty and destitution.
Image 3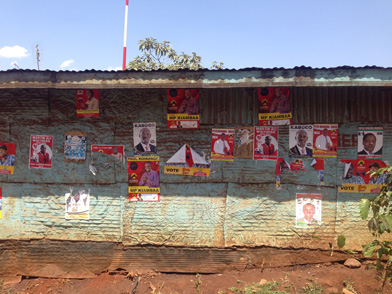 Throughout 2017, Kenya's elections and associated campaigns featured prominently in peri-urban life. More or less every vertical surface was covered with posters of then Kiambu Governor William Kabogo who lost his seat due in part to "rumours" (mũhahĩ)