The Department is experimenting with ways in which to build connections with our alumni and friends. We have begun a series of events, entitled 'Anthropology, Beyond the Academy', in which speakers from a diverse range of fields describe and reflect on the ways in which having studied anthropology has informed their work.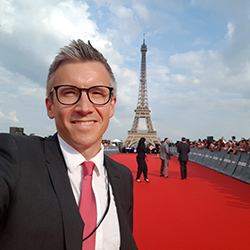 Our first speakers have been: Gareth Ward (recently appointed British Ambassador to Vietnam, following a series of exciting postings in China and Russia), Sigrid Rausing (author, editor of the Granta literary magazine, and benefactor of the Department through her endowment of the Sigrid Rausing Professorship), Richard Clarke (Director General for Policy, Research and Humanitarian at the UK government's Department for International Development), Sir Antony Gormley (Britain's most celebrated contemporary sculptor) and Hugh Brody (the filmmaker with whom he has collaborated closely, most notably on a film charting their remarkable work with Aboriginal people in the Australian desert community where Sir Antony produced his giant sculpture installation, 'Inside Australia'), and Cameron Saunders (executive vice-president for Europe, Middle-East, and Africa at Paramount Pictures). Our warmest thanks to all these speakers for the time and trouble they have taken to share their experience and thoughts with us. The students, and my colleagues, are extremely grateful.
Our next speaker, early next term, will be Sofka Zinovieff (author and novelist). Future speakers will come from a very wide range of fields in business and commerce, entertainment, the arts, public service, the professions, and beyond.
We have found that whatever future careers they may have in mind for themselves, our students are intensely interested in thinking about how anthropological knowledge and ways of thinking might be relevant in various forms of endeavour beyond the academic world, and in thinking about what academic anthropology might learn from the experiences of those who have taken their anthropology, whether explicitly or implicitly, out into 'the world' beyond the academy. Following the success of these inaugural events, we plan to continue to develop the series, to show our students how many different kinds of lives and careers may be nourished and enhanced through study and research in our field.