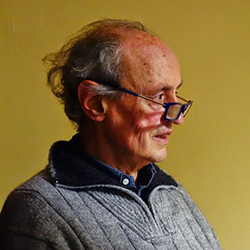 The Department is very sad to learn of the death, on 13th January 2020 at the age of 81, of our long-time and dearly remembered former colleague, Dr Gilbert Lewis. Gilbert was a pioneer in the development of medical anthropology as well as a distinguished ethnographer of Papua New Guinea and theorist of ritual and magic. Colleagues who were taught by or worked with him remember a man of remarkable sensitivity and kindness, as well as a highly creative intellect. We offer our warmest sympathies to his family. 
Gilbert Lewis's funeral was held on 6 February 2020. Dr Stephen Hugh-Jones read the following short eulogy, which he has kindly agreed that we reproduce here:
'To me – and surely to you too - Gilbert's tragic and untimely death has come as a terrible and unexpected shock. That he is no longer with us is still an open wound: raw, very painful, difficult to accept and even harder to understand.
To express my affection for Gilbert and sadness at his passing, all I can do is to say a few words about him and some of things that he meant to me. Hopefully this will evoke something of him in you too.
I worked alongside Gilbert for the whole of our academic careers in the Department of Social Anthropology and came to know him very well. He was much more than a colleague – he was a close personal friend.
In the Department, we shared much in common - everything from his pipe - we smoked this together in the morning as we swapped news of family and children -  to jokes about 'Basil Brush', our private code for Jack Goody, our Head of Department - Jack was also our friend and, like Gilbert, a fellow of St John's.
Gilbert and I had also married the opinionated sweethearts of our youth and, perhaps unusually for our generation, we stayed with them, Gilbert with Ariane, I with Christine. We joked about this too – a mix of affection and mutual understanding.
We had both worked with tribal societies, Gilbert with the Gnau in Papua New Guinea and I in Amazonia - Gilbert even tried to teach me his special Gnau way of whistling.
Work with tribal societies set us slightly apart in a department turned increasingly to modernity and complexity. It also led to a shared interest in ritual. But whereas I stuck with structuralism, Gilbert, in his brilliant, original and unconventional Day of Shining Red, made these then fashionable views part of the problem. Drawing on Gombrich's Art and Illusion, Gilbert argued that ritual was not about communication but rather about expression. To know what was expressed required painstaking attention to detail – as in painting or art appreciation.
Gilbert was painstaking and meticulous - in what he did and what he said. He had the keen, sometimes ironical eye of a novelist for those around him, often noticing things that others might miss. But he hated confrontation, avoided criticising others and thought carefully before expressing his opinions – always in that soft, unassertive, slightly breathy voice of his. He loved art, was a talented painter himself and, with his training in both medicine and anthropology, straddled the ground between science and the humanities - like his hero Gombrich.
Gilbert had a brilliant, original mind - something of an older-style polymath. He read widely and eclectically – especially from piles of old TLS – and seemed to know about almost everything – full of curious facts, off-beat pieces of wisdom and authoritative references to literature. He disliked pretence and avoided fashion – in his ideas and in his clothes - though Ariane occasionally tried to smarten him up.
With, and through, Ariane, Gilbert loved France and things French. He was never happier than at Naumas, his remote house hidden away on La Montaigne Noir, surrounded by acres of woodland and open fields patrolled by hen harriers  – Gilbert loved birds and was a keen bird-watcher. I remember our holidays at Naumas, swimming with Gilbert, Jerome and Niko in the nearby pond and Gilbert injecting me in the backside when I fell ill from exhaustion after digging out a deep pit. I can see Gilbert now, outside the house keeping the grass and bracken at bay with his scythe, then coming in for an evening of good food, good wine and animated conversation – with Gilbert cursing the dormice that we admired.
I am very lucky to have had Gilbert as my friend. He enriched my life in so many ways.  I wish he was still with us now.'